NRCC Triathlon Team Competes Saturday, September 24
Sep 21 2011
This is an archived article!
This article was published on Sep 21 2011 and was archived on Sep 22 2012. The information below may be outdated or inaccurate.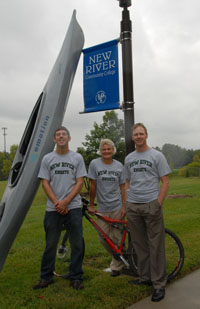 Three New River Community College athletes will head out to Foster Falls this Saturday to participate in the New River Trail Challenge Triathlon. Brian Clark, assistant professor of health/physical education and biology, will compete in the first stage, a 40-mile mountain bike ride. Connie Pierett, adult education retention specialist, will paddle the second, 12-mile kayak stage and Chris Quesenberry, electrical engineering student, will run the third, half-marathon stage. Pictured here from left to right are Chris Quesenberry, Connie Pierett and Brian Clark.