Turpin named Commonwealth Legacy Scholar
Sep 08 2011
This is an archived article!
This article was published on Sep 08 2011 and was archived on Sep 09 2012. The information below may be outdated or inaccurate.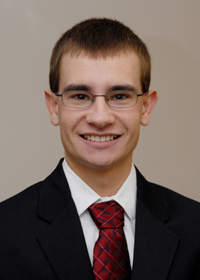 Anthony Turpin, son of Tony and Dana Turpin, has been awarded the Hiawatha and Beverly Nicely Commonwealth Legacy Scholarship at New River Community College for the 2011-2012 academic year.
Turpin, of Newbern, is a 2011 graduate of Pulaski County High School, where he participated in the United States Achievement Academy and took honors courses. He is also active in the Boy Scouts of America and last year achieved the rank of Eagle Scout, the organization's highest honor.
At NRCC, Turpin will study general studies and business and plans to transfer to Radford University to study accounting. He says prior coursework in accounting got him interested in the field, as did the influence of his mother, a 1990 NRCC accounting graduate.
Turpin's future career goals include working in the business and accounting field and he says he'd eventually like to become a Certified Public Accountant (CPA).
"Outstanding students like Anthony are the future leaders of our Commonwealth," says Angie Covey, executive director of the NRCC Educational Foundation. "They represent the potential in today's youth."
The Commonwealth Legacy Scholarship program is sponsored by the Virginia Community College System (VCCS). One recent high school graduate is chosen by each of the 23 community colleges to receive an award.
Students selected for legacy scholarships will become mentors to future legacy scholars as they move through their academic programs and graduate from a Virginia community college.Additionally, each college names its scholarship in honor of a philanthropic leader who has been a supporter of the college. This year, NRCC honored Hiawatha and Beverly Nicely. They are long-time supporters of New River Community College and its educational foundation.
The 2011 Commonwealth Legacy Scholars will be honored in November at the annual VCCS state board meeting in Charlottesville.