New Alternative Energy Equipment at NRCC
Sep 07 2011
This is an archived article!
This article was published on Sep 07 2011 and was archived on Sep 08 2012. The information below may be outdated or inaccurate.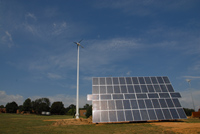 Electrical and Instrumentation students at New River Community College have a new lab to work in this semester. It's an outdoor photovoltaic and wind park located beside Edwards Hall. Two photovoltaic units that track the solar energy path of the sun and two wind turbines reaching 45 and 90 feet will provide a hands-on learning experience to the students with the added benefit of working on live systems. Funding for the solar tracker was from State Energy Program funds made available as part of the American Recovery and Reinvestment Act. Funding for the turbine equipment came from a collaborative grant with Virginia Tech and several other Virginia community colleges from the U.S. Department of Labor.