'Voice of NRCC' retires after 24 years
Aug 31 2011
This is an archived article!
This article was published on Aug 31 2011 and was archived on Aug 01 2012. The information below may be outdated or inaccurate.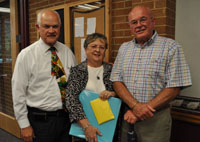 For the past 24 years, New River Community College information center operator Bonnie Hall has welcomed faculty, staff, and visitors, and managed the telephone switchboard at the college in Dublin. But Hall recently made the tough decision to hang up her silver headset and join her husband, Larry, in retirement. Retirement, Hall says, was a strange concept to her. "I just couldn't see myself doing it," she says. "I thought, 'Retirement? That's for OLD people!'"
Hall says that in her time at NRCC, she's seen a lot of changes in personnel, departments and even the college itself. She smiles as she recalls her first office in NRCC's information center - a converted closet. "In the beginning, it was so small that I had to take my coat off in the hallway before I went in because there just wasn't enough room!"
That's a striking change from the center's current location- a bright, glass-walled office centrally located in Godbey Hall. "It's so nice to get to see everyone as they come in," says Hall.
Hall's duties included everything from operating the college switchboard to sending out weather-related closing information to local media. She also greeted visitors, gave directions and was well known for lending a hand to other departments for special projects. But Hall says her favorite task was her telephone work. "I talk to a lot of happy people," she says. "They're excited when they call because they've decided to come to school and are looking for information, so it's something they really want."
She may be retiring from employment, but Hall says she plans to stay busy and already has a list of things she wants to do including a cross-country trip to California - perhaps even all the way to Alaska. "That one's at the top of my 'bucket list'," she says. In addition to traveling, she's looking forward to spending more time with her five grandchildren.
"NRCC is the best place I've ever worked - with the best people" says Hall. "And it's been 24 good years, but it's time."