Marty Stuart to perform at NRCC
Aug 16 2011
This is an archived article!
This article was published on Aug 16 2011 and was archived on Aug 17 2012. The information below may be outdated or inaccurate.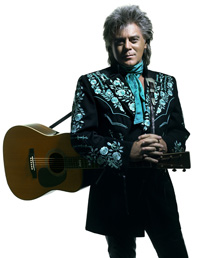 Country music legend Marty Stuart and his band will perform next month at New River Community College (NRCC) in Dublin. The concert will take place on Saturday, September 10, at 7:30 p.m. in Edwards Hall, 117.
Stuart began his career in music by singing gospel as a child, followed by stints with Lester Flatt in the 70's and Johnny Cash in the 80's. In the 90's, Stuart released his hit albums "Hillbilly Rock," "Tempted" and "This One's Gonna Hurt You." He is also a four-time Grammy Award winner, platinum recording artist and Grand Ole Opry star.
Stuart's current album, "Ghost Train (The Studio B Sessions)," features the duet "I Run to You" written and sung with Connie Smith and the story-song "Porter Wagoner's Grave."
Tickets for Stuart's concert at NRCC are now on sale online at http://www.nr.edu/fiddle/tickets.php . Local box office sales will begin on Monday, August 22 at the Pulaski Visitors Center at 4440 Cleburne Boulevard in Dublin.
Prices are: $20 per ticket in advance, $25 per ticket at the door and $25 per ticket for advance reserved seats.
Fiddle, Banjo and Dance Club corporate sponsors include: CVS Pharmacy, Dublin; the Pulaski Patriot, Pulaski; Pepsi Cola Bottling Co.; King's Tire Service, Pulaski; Shoney's Restaurant, Dublin, WPSK Radio, NRV; Wade's Supermarket; Pulaski Chamber of Commerce; and Trader's Emporium and Jewelry Services, Dublin.
More information about the Marty Stuart concert, the NRCC Fiddle, Banjo and Dance Club and other upcoming shows may be found online at www.nr.edu/fiddle.