Thirteen students graduate from NRCC's practical nursing program
Aug 01 2011
This is an archived article!
This article was published on Aug 01 2011 and was archived on Aug 02 2012. The information below may be outdated or inaccurate.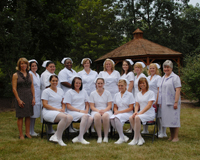 Thirteen New River Community College students have completed requirements for the three-semester practical nursing program at the college. They received diplomas and participated in a pinning ceremony on July 29.
Practical nursing graduates were Ashlyn Sheyanne Alexander of Draper, Stephanie Dawn Breeden of Radford, Brittany Anne Camper of Pulaski, Cherish Ann Carrico of Parrott, Laura Jean Caldwell Carter of Elliston, Christy Wurzburger Dishon of Christiansburg, Destiny Michelle Guthrie of Christiansburg, Krista Michelle Howell of Radford, Holly Dowdy Hughes of Pulaski, Whitney M. Lineberry of Draper, Tammy Lynn Marshall of Rural Retreat, Gamellia Rochelle Richardson of Christiansburg, Tiffany L. Smelser of Stanley, and Cara Ann Umberger of Wytheville.
NRCC's one-year certificate program prepares students to qualify as contributing members of a health team, rendering patient care in a variety of health service facilities. These students are eligible to take the Virginia Board of Nursing examination leading to licensing as a Licensed Practical Nurse (LPN).