Chancellor's Workforce Development Awards held at NRCC
Jun 29 2011
This is an archived article!
This article was published on Jun 29 2011 and was archived on Jun 30 2012. The information below may be outdated or inaccurate.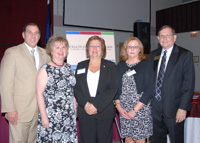 Workforce development staff members from five Virginia community colleges were honored at a recent ceremony held at New River Community College (NRCC).
The Chancellor's Workforce Development Awards luncheon brought together staff from Mountain Empire, New River, Southwest Virginia, Virginia Highlands and Wytheville Community Colleges to celebrate the work of outstanding individuals supporting the goals of their respective colleges and the Virginia Community College System (VCCS).
NRCC celebrated the achievements of four employees: Lois Davis, Dan Grubb, Linda Lester and Susy Schumann.
"We're pleased to recognize these staff members for their outstanding work," said Dr. Mark Rowh, NRCC vice president for workforce development and external relations. "They have performed with excellence in reaching out to students and others served through workforce development activities."
Davis is an instructor with NRCC's Middle College program at the college's New River Valley Mall site and with Great Expectations, a program that assists Virginia's foster youth with college decisions, life skills and job training.
Grubb teaches several classes for NRCC as part of the "Leadership in Action Series." These classes include human resources legal basics in the workplace, coaching as a leader, behavioral interviewing, boosting motivation and morale, and conflict resolution.
Lester also teaches a number of classes at the college. Her computer courses include computer basics, navigating the Internet, creating web pages and Facebook basics.
Susy Schumann works with NRCC's public information and scholarship programs. She also serves as NRCC's career coach at Radford High School, helping guide students as they make college, career and other major life decisions. At the event, the group was addressed by Marcus Thompson of Volvo Trucks North America. VCCS officials Dr. Craig Herndon and Trenton Hightower also participated in the program and bluegrass musician John Viers entertained the group with stories and songs on banjo and guitar.