NRCC club donates over 900 books to local Christmas stores
Dec 14 2010
This is an archived article!
This article was published on Dec 14 2010 and was archived on Dec 15 2011. The information below may be outdated or inaccurate.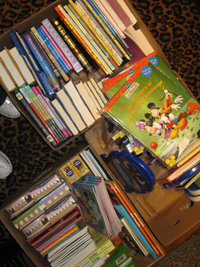 The New River Community College multicultural club recently donated 942 books to the Giles and Pulaski County Christmas Stores.
Some books were donated to the club, but many were purchased with funds raised from a bake sale and chances sold for prizes. The bake sale brought in $170 and the sale of drawing tickets and other monetary donations brought in a total of $669.40. The club took the total money raised and went on several buying trips to find the best book deals.
Thanks go to several local businesses and individuals for donating prizes to the club's successful drawing: Applebee's (Radford), PR Sturgill Fine Jewelry (Radford), Lemon's Jewelry (Fairlawn and Pulaski), Auto Shine (Fairlawn), University Amoco (Radford), Thompson Tire (Radford), Sharkey's (Radford), NRCC Bookstore, University Tanning (Radford), Walmart (Fairlawn), Taco Inn (Radford), Creative Looks (Christiansburg), Kroger (Fairlawn), George Reed (Pulaski), Knit Picky (NRCC student Sally Stauffer), Outback Steakhouse (Christiansburg), Walmart (Pearisburg), Bull & Bones (Blacksburg), Sal's Italian Restaurant (Blacksburg), On a Whim (Blacksburg), CVS (Pulaski) and Henebry's Jewelers (Blacksburg).