NRCC hosts regional Rapid Response meeting
Dec 06 2010
This is an archived article!
This article was published on Dec 06 2010 and was archived on Dec 07 2011. The information below may be outdated or inaccurate.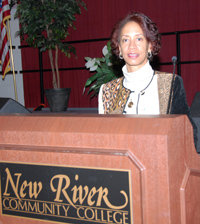 New River Community College (NRCC) recently hosted a regional meeting for the state-wide Rapid Response program, an initiative that provides assistance for workers and employers affected by layoff or business closings. NRCC is one of only four community colleges in Virginia that operates a Rapid Response program. Shown here addressing attendees from throughout southern Virginia is Felecia McClenny, the Rapid Response program manager for the Virginia Community College System. Representing NRCC at the regional meeting were C. E. Hughes, western region Rapid Response coordinator and Dr. Mark Rowh, vice president for workforce development and external relations.