NRCC student Grace Meier earns national scholarship
Apr 26 2010
This is an archived article!
This article was published on Apr 26 2010 and was archived on Apr 27 2011. The information below may be outdated or inaccurate.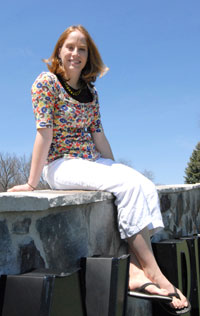 Grace Meier, a student at New River Community College, has been awarded a scholarship from the Coca-Cola Scholars Foundation. Meier is one of 150 national finalists who will receive $1,000 toward their tuition for next year. She was selected from her application for the USA Today All-USA Community College Academic Team/Coca-Cola All-State Community College Academic Team. She has been named to the All-Virginia Academic Team.
A nursing student at NRCC, Meier is a 2008 Giles High School graduate. She's a full-time student and works two part-time jobs, one at the Hokie Grill on Virginia Tech's campus, and the other as a work/study student in the New River Community College Financial Aid Office. She also was inducted as a volunteer member of the Newport Rescue Squad after receiving her EMT-B license. And she is a member of the Gospel Light Baptist Church in Christiansburg.
As a nursing student in clinical rotations now, she says she isn't able to be as active on campus as she'd like; but nevertheless she is historian for the college's honor society Phi Theta Kappa and is a member of the NRCC multicultural club. She has been an NRCC Educational Foundation Scholar for two years.
"I've always enjoyed helping people," Meier says. And she'll get some practical experience helping people as she has been selected to participate in an "Adopt-a-Nurse Program" this summer. She'll be working the night shift in the medical/surgical wing of New River Valley Medical Center starting in July.
"I chose to attend community college for the size, the cost, and the diversity," she says. She enjoys small class sizes and likes a one-on-one relationship with her professors.
"I'm putting myself through college and the more affordable tuition definitely caught my interest," she added. "And the diversity of community college students brings different views on subject matter and makes classes more interesting."
She has one more year of classes at NRCC before she earns an associate degree in nursing in May 2011.
She was recognized recently at a luncheon in Richmond at the All-Virginia Academic Team Awards program.