NRCC alternative energy program provides students with hands-on experience
Aug 18 2017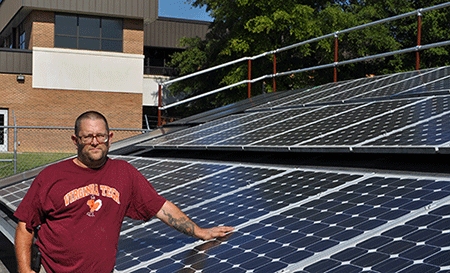 Students participating in the alternative energy program at New River Community College receive a hands-on education.

NRCC's two-semester program focuses on alternative uses for natural energies such as solar and wind. Henry Hughes, NRCC student, enjoyed the real world experience the program provides and said he was able to learn from it.

In 2015, Hughes completed the alternative energy career studies certificate. The hands-on experience of working with wind turbines and solar panels was something Hughes enjoyed about the program.

"If you're seriously interested in a program that is going to last, not just for a year or two, I would come to NRCC and take this program," said Hughes.

Alternative energy is a continually growing field explained Hughes. Someone interested in the field could work as an installer, a maintenance technician, a servicer, in sales or in distribution added Hughes.

NRCC's program begins with the introduction of the fundamentals and safety requirements for alternative energy systems and then proceeds with the application and study of wind turbines as well as performs system exercises and maintenance on photovoltaic energy systems. The certificate is designed to enhance the awareness of different designs, layouts, wiring and installations for alternative energy systems.

At the end of the program, students can test for an NCCER certification - "Your Role in the Green Environment" and an NABCEP certification - "NABCEP Photovoltaic Associate Level."

Registration is in progress. Fall classes begin Monday, August 28. To see the fall semester class schedule, visit www.nr.edu/schedule. Current NRCC students may register for classes online by visiting their student accounts.

Prospective NRCC students may visit www.nr.edu/admissions/ for enrollment information or call the Admissions Office at 540-674-3603.