Dr. Charlie White returns to NRCC
Jan 05 2017
This is an archived article!
This article was published on Jan 05 2017 and was archived on Jan 06 2018. The information below may be outdated or inaccurate.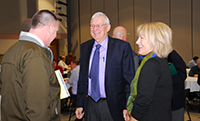 Who says you can't go home again? Deemed a legend at New River Community College with 35 years of service here, and 10 more within Virginia's Community Colleges, Dr. Charlie White has come "home" to serve as interim president after the retirement of Dr. Jack Lewis in December. On Jan. 4, after the faculty/staff opening session for spring semester, a reception was held to welcome him and his wife Peggy. Pictured: Charlie White, center, and wife, Peggy, talk with Barry Cox, Veterans Connection Specialist.