First NRCC pharmacy technician training completed
Dec 21 2016
This is an archived article!
This article was published on Dec 21 2016 and was archived on Dec 22 2017. The information below may be outdated or inaccurate.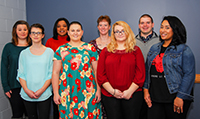 The first students of New River Community College's new pharmacy technician training have successfully completed their coursework. Pictured here are: front row from left, Katie Begley, Fairlawn; Lacey Skinnell, Dublin; Jenna Barker, Dublin; Alaina Porter, Blacksburg; back row from left, Emily Begley, Fairlawn; Pam Gulley, Pulaski; Autumn Mertz, Narrows; and instructor Brenton Langston. Graduates of this short-term program are now eligible to take the national Pharmacy Technician Certification Board (PTCB) exam and then apply for registration as a Pharmacy Technician in Virginia. The next session will begin Jan. 17 (Class ID#3584). Registration information is available at http://www.nr.edu/workforce by a search using the Class ID under classes and programs/non-credit course offerings. The programming is offered through NRCC's Office of Workforce Development.