Ticket sales begin Dec. 7 for concert at NRCC
Nov 30 2016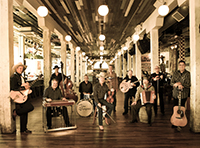 Tickets go on sale Wednesday, Dec. 7, for a concert at New River Community College by multi-Grammy nominated group The Time Jumpers featuring Vince Gill, Kenny Sears, "Ranger Doug" Green and Paul Franklin.
Tickets will be available at http://www.nr.edu/fiddle , Pulaski County Visitors Center or NRCC Office of Workforce Development, Edwards Hall, beginning at 8 a.m. Reserved seating tickets are $60 each and advance general admission tickets are $50 each. Tickets will also be available at the door for $60 each.
The Time Jumpers will be in concert at NRCC in Dublin on Friday, March 3. The show begins at 8 p.m. and will be held in 117 Edwards Hall. Doors will open at 7 p.m.
The Time Jumpers started in Nashville in 1998 as a group of musicians who wanted to spend their spare time playing together. The group started playing every Monday at the Station Inn, a bluegrass club. After 10 years together the band moved their show to a larger club, 3rd & Lindsley. The current group includes 10 members, "Ranger Doug" Green, vocals, acoustic rhythm guitar; Paul Franklin, steel guitar; Brad Albin, upright bass; Billy Thomas, drums, vocals; Kenny Sears, vocals, fiddle; Larry Franklin, fiddle; Andy Reiss, electric guitar; Jeff Taylor, accordion, piano; Joe Spivey, fiddle, vocals; and Vince Gill, vocals, electric and acoustic guitars.
The group released their new album "Kid Sister" in September.
The show is sponsored by NRCC Educational Foundation.
More information about the show is available from Roger Adkins at 540-674-3600, ext. 4307, and online at http://www.nr.edu/fiddle.