Writer with local ties to be featured at a July 21 poetry reading at NRCC
Jul 08 2016
This is an archived article!
This article was published on Jul 08 2016 and was archived on Jul 09 2017. The information below may be outdated or inaccurate.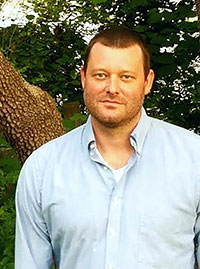 Dr. Shannon Tate Jonas, a New River Valley native now living in Illinois, will read from his prize winning book of poetry, "Battle Sleep," at New River Community College on Thursday, July 21.
The event will be held at 7 p.m. in the T. J. Anderson Student Lounge in Martin Hall and is sponsored by the NRCC Library. Presented in a casual coffeehouse-inspired setting, the reading is free of charge and open to the public.
"Battle Sleep" was the 2014 winner of the Brick Road Poetry Press Prize and was published in January 2016. Poet Tim Earley says of Jonas' collection of poetry, "[he] achieves on every page a desperate beauty that few contemporary American poets attempt."
Shannon Jonas is a university instructor of English/creative writing. He is currently living in a farmhouse in Illinois with his wife and their dog, while he completes a new writing project. Born in Radford, he attended Fort Chiswell High School in Wythe County, and graduated with a B.A. in English from Virginia Tech in 2000, an M.F.A. in Creative Writing Poetry in 2005 from the University of Arkansas and a Ph.D. in English literature with a creative dissertation in poetry from Western Michigan University in 2009.
He has published widely, both online and in print, including a chapbook, "Compathy," from Cannibal Press in 2007 and his first manuscript, "Battle Sleep."
Along with the Brick Road Poetry Prize, Jonas' work has won numerous prizes, including a Pushcart Prize nominee in 2013, the Herbert Scott Poetry Prize (awarded to one graduating outstanding doctoral candidate in poetry from Western Michigan University) in 2009, and a Lily Peter Prize for Poetry from the University of Arkansas in 2003.
Jonas' grandfather, Gordon Jonas, developed and taught in the instrumentation program at New River Vocational-Technical School in Radford, which later became New River Community College. Then in the early 1970s, he served in NRCC's job placement office. "So, it's a coming home of sorts, for this talented, young writer," says Sandy Smith, NRCC's director of library services. "We are looking forward to presenting Shannon and his work to our community."
Dr. Jonas will remain following the reading for questions and a book-signing session. Light refreshments will be served.