MacLeod endows NRCC scholarship
Jun 01 2015
This is an archived article!
This article was published on Jun 01 2015 and was archived on Jun 02 2016. The information below may be outdated or inaccurate.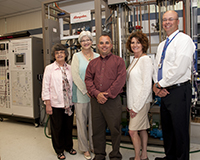 Beverly MacLeod, of Harrisonburg, has endowed a scholarship through the New River Community College Educational Foundation in honor of her late husband, William Baker MacLeod.
William MacLeod graduated from Dublin High School in 1964 and went on to what was then New River Vocational-Technical School. He completed his studies in electronics and electricity in 1966 and went on to a career in the instrument department of Newport News Shipbuilding. There, he advanced quickly through the ranks and spent 14 years testing and installing equipment on nuclear submarines and other vessels.
After he left the shipyard, MacLeod went to work as an instrument mechanic at the pharmaceutical company Merck & Co. in Harrisonburg. He excelled there, winning several "Quality Performer" awards. He later retired from Merck, having achieved the position of validation specialist in the quality control department.
Beverly MacLeod describes her late husband as "one of the most patient human beings on the planet" and says that "he was a perfectionist - if he was doing it, it was going to be done right." That combination of thought, patience and a desire for perfection, she says "helped him excel in every job he took."
The William Baker MacLeod Memorial Scholarship will be awarded annually to a student studying electronics or instrumentation at New River Community College.
More information about NRCC Educational Foundation Endowed Scholarships may be obtained by contacting Angie Covey at 540-674-3655 or acovey@nr.edu