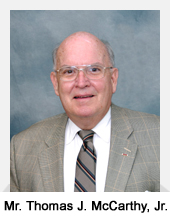 Thomas J. McCarthy, Jr. is a dedicated and well-respected lawyer and community servant in his hometown of Pulaski.
McCarthy's path to a career in law began with a Bachelor of Arts degree in economics from Washington and Lee University in 1967, followed three years later by a Juris Doctorate degree from the University of Virginia. He is a partner in Pulaski law firm Gilmer, Sadler, Ingram, Sutherland, and Hutton.
McCarthy also participates in a number of civic and political activities. He served as the secretary of the ninth district professional ethics committee for the Virginia State Bar from 1976 to 1979, served as president of the Pulaski County Rotary Club in 1979 and president of the Pulaski County Chamber of Commerce in 1980, and has served two previous eight-year terms as a New River Community College (NRCC) board member. While on the college board, McCarthy has served twice as vice chairman (1981 to 1988 and 2001 to 2002) and once as the board's chairman (2002 to 2004). McCarthy also served on New River Community College's Foundation board from 1989 to 1991.
In addition to McCarthy's past service, he serves as the attorney and commissioner of accounts for Pulaski County and is an administrative hearings officer as appointed by the Supreme Court of Virginia. He is also a member of the bar of the Supreme Court of the United States.  Additionally, he holds multiple bar memberships and memberships in the local rotary club, chamber of commerce, democratic committee, and Elks club.
McCarthy's service record also extends to the national level, with a decades-long career in the United States Army Reserve. He served in the Judge Advocate General's Corps and retired with the rank of colonel. McCarthy received several decorations while in service including the Legion of Merit, Meritorious Service Medal and Army Commendation Medal.