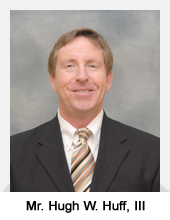 Hugh Huff, III, is the president of Huff Petroleum Company in Pulaski and owner of Frontline Motorsports in Christiansburg.
Huff holds a Bachelor of Science degree in Economics from Tennessee Wesleyan College and in addition to managing his businesses, he participates in the Pulaski Rotary Club and Virginia Oil Jobbers Association. He also attends First United Methodist Church.
Huff's family includes his wife, Sheryl, and his three children: Hugh, Lauren, and Lindsey. His hobbies include motorcycling, woodworking, and running.