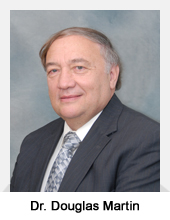 Dr. Douglas D. Martin of Newport is director emeritus of Virginia Tech's university benefits programs and employee services. He came to the position from another at Virginia Tech – agency records administrator.
Before making his way to Virginia Tech, Martin served in the U.S. Air Force in Europe, where he was awarded an Air Force Commendation Medal. He has also received a number of awards for his civilian service including the Garvin Fellowship at Virginia Tech, the Omicron Delta Kappa Al Payne Citizenship Award and Newport Citizen of the Year.
Martin is also active in a number of advisory boards, committees, and other civic organizations including the TIAA/CREFF 15-member national pension advisory board, the state health care advisory committee, and the board of directors for the Giles County Historical Society. He is also a member of the Newport Ruritan Club and has coached youth baseball for over 30 years.
His family includes his wife, two sons, a daughter-in-law and one granddaughter. Outside of work, he can be found researching local history or tending roses and wildflowers.