Delegate Shuler Donates Flags to NRCC
Feb 24 2014
This is an archived article!
This article was published on Feb 24 2014 and was archived on Feb 25 2015. The information below may be outdated or inaccurate.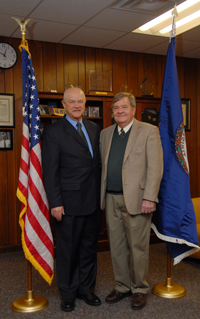 The Honorable James M. Shuler, 12th district representative to the Virginia House of Delegates from 1994 to 2012, recently donated the American and Virginia flags from his Richmond office to New River Community College. The flags will become a permanent reminder of Dr. Shuler's work in Virginia politics and will be housed in the office of NRCC president, Dr. Jack Lewis. Pictured from left, Dr. Jack Lewis and The Honorable James Shuler.