Funds sought to create scholarship to honor Hairston family: NRCC president and wife pledge matching gifts for second scholarship
Sep 17 2013
This is an archived article!
This article was published on Sep 17 2013 and was archived on Sep 18 2014. The information below may be outdated or inaccurate.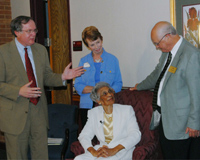 Through generous gifts to the New River Community College Educational Foundation, two scholarships will forever honor a Christiansburg couple known for decades of community building.
When 92-year old Nannie B. Hairston was named one of the Strong Men & Women in Virginia History by Dominion Virginia Power and the Library of Virginia last spring she received a monetary gift. She donated that $5,000 gift to the NRCC Educational Foundation as seed money to establish an endowed scholarship in memory of her husband John T. Hairston.
Today, she and her family, along with the foundation, are raising $20,000 in additional funds for the scholarship. Her daughters Colette Hash, Dy-Anne Penn, Edwina Miles and Catherine McDaniel are working closely with the foundation staff to secure the funding to fully endow the scholarship.
"Throughout their lives, Nannie and her husband have given people hope and empowered them to believe in themselves," says Dr. Jack Lewis, NRCC president. "Nannie's 'can-do' spirit is transferred to others. We appreciate her for her outreach to improve the lives of all people as she extends her strong support to the work we are doing in the community college."
In a surprise announcement before Hairston, her family and friends at an NRCC Educational Foundation gathering honoring Mrs. Hairston, Gary Hancock, a spokesman for the foundation, announced that Drs. Jack and Mary Ann Lewis have pledged matching gifts for each donation received toward the scholarship to create a second John T. and Nannie B. Hairston Scholarship for deserving NRCC students.
"The Foundation Board is grateful to NRCC's president and his wife for their support of the Hairston scholarship with this special gift," says Greg Rooker, president of the NRCC Educational Foundation Board. "Their generosity, along with that of members of the community, will create a legacy honoring this civic-minded family."
Donations toward the John T. and Nannie B. Hairston Scholarship at New River Community College may be mailed to NRCC Educational Foundation, Inc., P. O. Box 1127, Dublin, VA 24084. (Please note: "Hairston Scholarship.") Or, donations may be made online at http://www.nr.edu/foundation/donate_online.php .
The New River Community College Educational Foundation is a non-profit, tax-exempt 501(c)(3) organization.