Student finds success with the help of NRCC career advisor
Jul 18 2013
This is an archived article!
This article was published on Jul 18 2013 and was archived on Jul 19 2014. The information below may be outdated or inaccurate.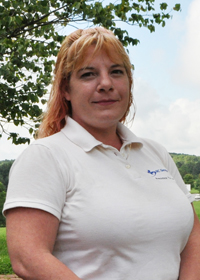 Brooke Taylor wore her longtime job title proudly - stay-at-home mom. But when her three children became teenagers, she decided it was time for a change. "I have lots of energy and 'oomph'," she says, "and I felt like it was time to do something."
Taylor, of Floyd, began taking classes at New River Community College in January 2012. Like many new college students, Taylor changed her program of study multiple times after enrolling. Then, with a little nudge from NRCC career advisor Kim Matthews, she got some guidance from the Virginia Education Wizard. The Wizard is an online tool that helps students assess their career options, understand the cost of college and learn about transfer options. "I took the career assessment and was really surprised by what came up," says Taylor. With a combination of advice from the Wizard and an interest in laboratory work, she decided to enter NRCC's Forensic Science program.
Introducing her to the Virginia Wizard wasn't Matthews only contribution to Taylor's success. Taylor met Matthews while taking NRCC's College Success Skills course. Once Matthews saw Taylor's interest in laboratory work, she pushed her to apply for a job at BC Genesis, a Floyd biotechnology company.
Taylor was initially hesitant to apply, assuming she didn't have enough work experience. "In the back of my mind, I was thinking 'I don't think I can do this yet,' " she says. But Matthews was persistent, helping her prepare a resume and giving her interview tips. After a couple of emails with the company, Taylor was called in for an interview and was hired on the spot. "I was shocked they even called me in for an interview, but it was fabulous!"
Taylor now works as a lab technician for biofabrication at BC Genesis, where she helps create some of the bacterial-cellulose materials that the company uses in medical devices. "It's a dream job," she says. "Even if I won the lottery, I'd still work there!" In addition to truly enjoying her work, Taylor speaks openly about how much she enjoys the company itself. "They've been really great about working around my school schedule," she says. "They even sponsored my son's baseball team."
She's figured out the work-school balance, but what about the kids? "At first it was rough for them," she admits. "They were used to me making dinner every night, doing all the laundry and cleaning the house." But, she says, after a couple months they got into a different "groove" and got things figured out. "They're all pitching in now," she says. "Everyone has designated chores and I still make homemade meals a few times a week."
Only a short chat with Taylor is necessary to see how much she's enjoying her academic and career paths, and she is quick to credit Matthews for giving her the push she needed to succeed. "If it wasn't for her pushing me and telling me 'You can do it, I know you can.' I would not have gotten my job."
NRCC's career advisors help students and community members create career plans, assess individual strengths and weaknesses and navigate the path to finding employment or changing careers. More information may be obtained by calling 540-674-3600, ext. 4425, or by visiting www.nr.edu/career .