Community College Awareness Month: Top 5 Mistakes High School Students Make Before Starting College
Apr 04 2017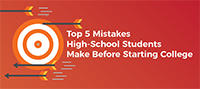 1. They procrastinate. Instead, encourage them to take some college-level courses while they're still in high school to reduce college stress and costs. Have them ask a school counselor about Dual Enrollment options.
2. They don't look ahead. Go with them to talk to a financial advisor to understand how student debt burdens can affect them for years.
3. They don't consider all the options. They could save $45,000 by earning an associate degree at New River Community College and then transferring to get a bachelor's at a four-year university.
4. They leave money on the table. Many organizations are eager to award scholarships. Encourage them to check with their guidance counselor…and apply!
5. They don't shop around. Find out how much that degree program will really cost at a for-profit college, a state-supported university or at New River Community College.