Community College Awareness Month: Top 5 Ways For High-School Students to Save Money on a College Education
Apr 03 2017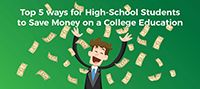 1. Consider the options before you enroll. Check the price tags for earning degrees at for-profit, state universities or community colleges. You can do that easily and for free at the Virginia Education Wizard College Selector.
2. Take college-level courses while in high school. It's a great way to save money later. Virginia's Community College Dual Enrollment programs make it convenient.
3. Consider enrolling at your local community college and transferring after earning an associate degree; you'll save about $45,000 on the way to getting that bachelor's degree.
4. Look around for resources; lots of organizations offer scholarships. Check with your guidance counselor, and APPLY for them!
5. Get a reality check; consult with a financial advisor about the real-life consequences of racking up college debt, and ways to avoid it.
BONUS! Listen, really listen to the advice offered by guidance counselors, Career Coaches and your parents.