Truegrass and the Friday Night Dance Band to perform at NRCC
Feb 23 2017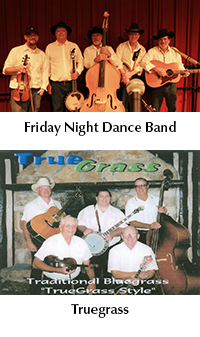 The music of Truegrass and the Friday Night Dance Band will be featured during New River Community College's Fiddle, Banjo and Dance Club Jamboree on Saturday, March 11. Music will begin at 6 p.m. in 117 Edwards Hall at NRCC in Dublin.
The Friday Night Dance Band is an old-time band from Callaway, Va. Over the years, the band has played at many different venues including jam sessions at Cannaday's Store in Boones Mill and the Floyd Country Store and regular fundraising shows at the Floyd Fire Department. The band also received a commendation from the Virginia General Assembly for their contributions to the community of Redwood and town of Rocky Mount, where they played for benefit dances. Current band members include Dolly Maxey, guitar/vocals; Stan Rowe, bass/vocals; Adam Cecil, fiddle/guitar/banjo; David Cannaday, banjo/vocals; and Russ Boyd, vocals.
Truegrass is a bluegrass band that formed in early 2004. They perform traditional bluegrass music that ranges from hard-driving and energetic to slow ballads and gospel tunes. The band has performed throughout southwest Virginia as well as east Tennessee, North Carolina and Maryland. They have released bluegrass and bluegrass gospel CDs. The band's current members are Emory Parks, guitar/vocals; Jack Wells, mandolin/vocals; Wayne Thomas, banjo/vocals; Paul Catron, fiddle/vocals; and Stan Massie, bass fiddle/vocals.
Corporate sponsors of the jamborees include Anderson Audiology, Dublin; Duncan Ford Lincoln Mazda, Blacksburg; Estes Auto & Truck Parts Inc., Pilot; First Community Bank, Pulaski; Gregory Seeding and Landscaping Company, Pulaski; King's Tire Service, Pulaski; Pepsi Cola Bottling Co., Dublin; Pulaski Patriot newspaper, Pulaski; Shoney's Restaurant, Dublin; Southern Furniture Warehouse, Radford; Sunshine Tours, Dublin; Trader's Emporium and Jewelry Services, Dublin and Wade's Supermarket.
The doors open at 5 p.m. for the show. There is no charge for admission; however, donations will be accepted to help pay travel expenses for the musicians. The jamborees are held the second Saturday of each month through April at NRCC, a Crooked Road affiliated venue. More information about the NRCC Fiddle, Banjo, and Dance Club is available from Roger Adkins at 674-3600, ext. 4307, and online at http://www.nr.edu/fiddle.