NRCC professor to present literary reading and Scotland travelogue
Nov 03 2016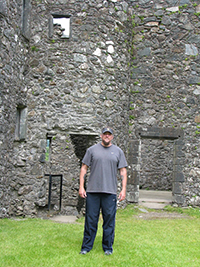 Ben E. Campbell will present new work at a literary reading Thursday, Nov. 10, at New River Community College in Dublin. The poetry and essays were inspired during a writer's retreat this summer in Inverness, Scotland. He will also show photographs of his travels in Scotland while researching family history in the area.
The event will be held at 7 p.m. in the T. J. Anderson Student Lounge in Martin Hall and is sponsored by the NRCC Library. Presented in a casual coffeehouse-inspired setting, the reading is free of charge and open to the public.
A native of southeast West Virginia, Campbell holds degrees from Marshall University and Bowling Green State University, where he earned a Master of Fine Arts in creative writing. His stories, poems and essays have appeared in more than two dozen literary journals and magazines, among them Yemassee, New Plains Review, Roanoke Review, and Now and Then. His writing has also received awards from organizations such as the Appalachian Heritage Writers Symposium, West Virginia Writers Inc. and Lincoln Memorial University.
A recipient of a Devine Fellowship and a professional development grant from the West Virginia Division of Culture and History, Campbell has served as a professor of English at NRCC for nearly a decade. He lives in Lewisburg, W. Va., with his wife and two daughters.
Campbell will answer questions following the reading. His book, "A Welcome Walk Into the Dark," will be available for purchase and signing. Light refreshments will be served.