The Country Boys and Whitetop Mountain to perform at NRCC jamboree in November
Nov 01 2016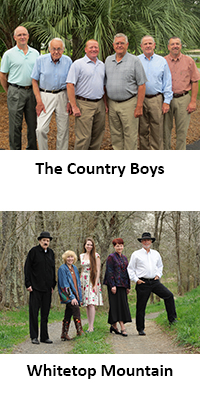 The Country Boys and Whitetop Mountain will be featured during New River Community College's Fiddle, Banjo and Dance Club jamboree on Saturday, November 12. The music will begin at 6 p.m. in Edwards Hall, room 117, at NRCC in Dublin.
The Country Boys have been playing traditional bluegrass and bluegrass gospel music throughout North Carolina and Virginia for over 40 years. The band originally formed in the late 1960s, with several lineup changes throughout the years. The present band is made up of Donald Clifton, Johnny Joyce, Tim Bowman, Billy Hawks, Kevin Easter and Doug Joyce. The band cites the Country Gentleman and the Osborne Brothers as some of their musical influences.
The Whitetop Mountain Band is a family band from Whitetop, Va., that originated in the 1940s and specializes in old-time fiddling and banjo picking. Their performances are also noted for their versatility, often containing blues, classic country, honky tonk pieces and traditional bluegrass. The band has performed at square dances, festivals and competitions throughout the United States and has performed internationally in the United Kingdom and Australia. The band's current members are Thornton Spencer, fiddle; Emily Spencer, banjo, guitar and vocals; Martha Spencer, guitar, banjo, fiddle and vocals; Jackson Cunningham, mandolin, guitar and vocals; Ersel Fletcher, guitar and vocals and Debbie Bramer, bass.
Corporate sponsors of the jamborees include Anderson Audiology, Dublin; Duncan Ford Lincoln Mazda, Blacksburg; Estes Auto & Truck Parts Inc., Pilot; First Community Bank, Pulaski; Gregory Seeding and Landscaping Company, Pulaski; Hitching Post Records, Hiwassee; King's Tire Service, Pulaski; Pepsi Cola Bottling Co., Dublin; Pulaski Patriot newspaper, Pulaski; Shoney's Restaurant, Dublin; Southern Furniture Warehouse, Radford; Sunshine Tours, Dublin; Trader's Emporium and Jewelry Services, Dublin; UAW Veterans Local 2069 and Wade's Supermarket.
The doors open at 5 p.m. for the show. There is no charge for admission; however, donations will be accepted to help pay travel expenses for the musicians. The jamborees are held the second Saturday of each month through April at NRCC, a Crooked Road affiliated venue.
More information about the NRCC Fiddle, Banjo, and Dance Club is available from Roger Adkins at 674-3600, ext. 4307, and online at http://www.nr.edu/fiddle.