NRCC Comic Con hosting first costume contest
Oct 17 2016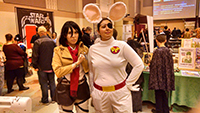 New River Community College's Comic Con will host the first-ever costume contest for all ages on Oct. 29. Cosplayers and children wearing their Halloween costumes are welcome to participate in the contest.
The costume contest will have two main categories, craftsmanship and stage performance. Craftsmanship is for participants who make their own costumes or props. The other category is stage performance, which is for participants who want to walk across the stage and show off their costume.
The craftsmanship and stage performance categories will then be split based on levels such as novice, intermediate, masters and kids.
Craftsmanship contestants will need to register by 12:30 p.m. at Comic Con. Participants competing in that category will have a prejudging session at the event to talk with judges about their costume. The stage performer registration deadline is 1:30 p.m. at Comic Con.
All participants will walk across the stage and winners will be announced at 2 p.m.
Comic Con organizer Gary Bryant says he sought the assistance of Crafty Sorceress, a local cosplayer, to organize the costume contest. She and two other cosplayers, Shimmer and Shade, will be contest judges. Crafty Sorceress has been building costumes, running cosplay events and judging costume contests for several years. She has previous experience in community and university theater.
"Crafty's knowledge and experience with events such as these make her the perfect choice to run the contest," Bryant added.
Crafty Sorceress says it is exciting to have a costume contest this year. "It brings people together to form a community. I'm excited about being a judge because you get to talk with people about costumes and see their personalities show through," she said.
In the stage performance category, judges will be looking at how the contestant portrays and communicates their character, and how the participant uses the stage. In the craftsmanship category, judges will focus on what the participant has accomplished and created. The judges will be looking for effort, quality and execution in the costume or prop.
The Comic Con will be held in 117 Edwards Hall at NRCC in Dublin from 10 a.m. to 4 p.m., and is family-friendly, open to the public and free of charge. The Comic Con will include guest artists, authors, presenters and dealers from throughout the New River Valley and beyond.