Pulaski artist featured in NRCC gallery show
Sep 12 2016
This is an archived article!
This article was published on Sep 12 2016 and was archived on Sep 13 2017. The information below may be outdated or inaccurate.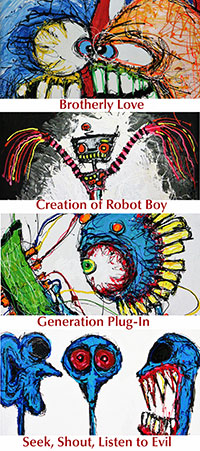 MEET THE ARTIST RECEPTION SET OCTOBER 17
Dave Rupe's "Manufactured Stardust" art is now on display in the Fletcher Gallery in Godbey Hall at New River Community College in Dublin. A reception/art talk with the artist will be held Monday, October 17, from noon to 2 p.m.
"What society calls 'artist' I call a 'spiritual creator'…and I've been one my entire life," says Rupe. "My subject matter comes from everywhere, just walk outside and you can feel the tension between the natural world and civilization. Whether it be religious, political, social or environmental, I enjoy dealing with subjects that most do not want to talk or even think about."
Rupe grew up in Pulaski and graduated from Bridgewater College in 1994, where he obtained a bachelor's degree in studio art. He attended graduate school at Radford University in 1995, and that same year he joined the Army where he served in Bosnia. He has been in various group shows with a solo show in 2011 at Art Pannonia in Blacksburg.
The show will be displayed until Friday, December 9.