The Gibson Brothers to perform at NRCC in September
Aug 03 2016
This is an archived article!
This article was published on Aug 03 2016 and was archived on Aug 04 2017. The information below may be outdated or inaccurate.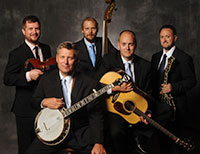 A Sunday afternoon bluegrass concert is scheduled on September 18 at New River Community College.
Two-time IBMA Entertainer of the Year winning band, The Gibson Brothers, will perform at 3:30 p.m. in 117 Edwards Hall at NRCC in Dublin. Tickets go on sale at 8 a.m., Monday, August 8. Visit the NRCC Fiddle, Banjo and Dance Club website at http://www.nr.edu/fiddle for ticket information.
The Gibson Brothers — siblings Eric and Leigh — were raised on a dairy farm near Ellenburg Depot, New York. They started playing an old banjo and guitar their father had; soon they were performing their music in church, and these days they are an award winning duo in bluegrass music.
Since The Gibson Brothers' first album was released in 1993, Eric and Leigh have matured as musicians, writers and performers, causing bluegrass fans to take notice and garnering critical acclaim: not only did the band win IBMA's (International Bluegrass Music Association) Entertainer of the Year Award in 2012 and 2013, but the organization has presented Eric with the prestigious Songwriter of the Year Award, as well. The Gibson Brothers' live shows are often peppered with a variety of covers ranging from Buck Owens to Tom Petty - into a unique style that honors tradition while still sounding refreshingly new.
Other band members are award-winning mandolin player and vocalist Jesse Brock, who joined the group in late 2012. Fiddler Clayton Campbell has been with the band for a decade, and bassist Mike Barber has played with Leigh and Eric for so long that he's affectionately known as the third Gibson Brother. While their harmonies capture most of the fan and critical attention, Eric and Leigh Gibson are also accomplished musicians, playing banjo and guitar, respectively.
Steve Leftridge of PopMatters describes them this way, "Eric and Leigh Gibson might have, pound-for-pound, the most impeccably fine-sounding traditional bluegrass band on the contemporary scene. ...the reason these guys can't lose is that, quite simply, they sound so great. Eric and Leigh sing bluegrass' tightest harmony blend, and, instrumentally the group plays with unmatched alacrity and taste."