NRCC graduates told they are heroes by commencement speaker
May 16 2016
This is an archived article!
This article was published on May 16 2016 and was archived on May 17 2017. The information below may be outdated or inaccurate.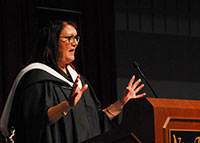 Elizabeth Creamer, NRCC's commencement keynote speaker, told graduates they were heroes during her remarks to the Class of 2016.
Creamer is advisor for workforce development in the office of Virginia's Secretary of Commerce and Trade. Her long journey in higher education started with earning an associate degree at age 30, while raising her three children and working part-time jobs. "And as I slowly, and I mean slowly, earned credentials, I started getting better jobs: jobs with benefits, jobs with opportunities for promotion, jobs with wages that allowed me, finally, to support myself and my family," she added. She later earned bachelor's and master's degrees.
"I didn't know it then, but what I did then in those years of juggling books and babies, part time work shifts and late night study sessions was the best preparation I ever could have had for my current career in workforce development," she said. "For one thing, it conditioned me to hard work, which is perhaps the most marketable skill of all. For another, it means I always come to my job, and to graduation tonight, recognizing that there is a hero in each and every graduate."
She applauded the accomplishments of New River's graduates. She said earning their degree, "is great for their families, their communities, and the Commonwealth. These graduates have achieved something that only about one in four adults in rural Virginia accomplish. They've earned a degree. And because they've earned a college degree they will, on average, earn a higher income throughout their careers. They'll have more job opportunities with better benefits. They'll have more job satisfaction and more job stability. They'll be part of a talent pool that will attract businesses with good jobs to this region and boost economic development in the state. Best of all, tonight's graduates will have children who are far more likely, than if their parent had not completed college, to go to college themselves and to earn a credential or degree. College graduation has a ripple effect that influences the well-being of generations to come. You moms and dads in the audience have not just given yourselves the chance of a lifetime; you've given your children a boost to their own success." Over 450 degrees, certificates and diplomas were conferred Friday night during New River Community College's 47th annual commencement ceremonies in Dublin. NRCC's president, Dr. Jack Lewis, conferred the degrees.