Louise Billaud, pianist, in concert at NRCC April 10
Mar 24 2016
This is an archived article!
This article was published on Mar 24 2016 and was archived on Mar 25 2017. The information below may be outdated or inaccurate.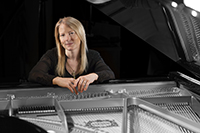 New River Community College will present Louise Billaud in an exceptional appearance in concert on Sunday, April 10, at 3 p.m. The event, sponsored by the NRCC Division of Arts and Sciences, will be held in Richardson Auditorium, Rooker Hall, at the college in Dublin.
The all-Russian recital program will include works of Khatchaturian, Scriabin, Kabalevsky, Rachmaninoff and Liapunov.
Dr. Billaud, professor of music at NRCC, is a classical pianist trained in the United States and France. She has performed in concert halls throughout the United States and Europe, gathering national and international awards and honors along the way. Having stepped away from the piano for a number years to focus on completing her doctoral studies, Dr. Billaud is enjoying being back at the piano preparing for her performance in April. Practicing for this recital, "is like being away from a sport for a while," she says. "There's a lot of physical and mental preparation involved in getting back into it."
In November of 2013, Billaud completed a Doctor of Musical Arts degree at Boston University. And, in 2014, she received the prestigious Outstanding Faculty Award by the State Council of Higher Education for Virginia.
She has been laureate of several piano competitions, taking first prize in the Maxim Shapiro Memorial Piano Competition, second in the International Piano Recording Competition and first prize in the Bartók-Kabalevsky International Piano Competition. She was also a recipient of the Award for Exemplary Performance from Radford University.Her recordings include compact discs: "Louise Billaud" - a recital of works by Bach, Beethoven, Barber, Holliday, Rachmaninoff and Liapunov; "From Bartók to the Popol Vuh" - featuring piano music by 20th century composers Bartók, Kabalevsky, Petrassi and Holliday; and "Passion" with works by Bach, Franck, Wagner-Liszt and Liszt.
She and her husband, Jean-Paul Billaud, a French-born American concert pianist, professor of music emeritus of the University of Alaska and Steinway Artist, reside in Dublin. Their son Kéran, a former student at NRCC, is completing his Ph.D. at the University of Florida.
The event is open to the public and free of charge; however there is limited seating. Free tickets are available by calling the Division of Arts and Sciences at 540-674-3611.